Media Co-Ordination | Public Relations | Special Events
Clients of Neal PR
CURRENT and PAST CLIENTS:
Roger Neal's Style Hollywood -

the only magazine that fast tracks designs and products to the stars

.
Natalie K Diamonds
Celebrity Rags 4 Charity Riches - This organization takes celbrity clothing and auctions them on Ebay. The stars select what charity the money goes to.
Cesar De La Parra - Famed fashion designer
Bob Hope
Saturn Awards - The Academy of Science Fiction Fantasy & Horror Films with annual award show.
Tim Conway, Harvey Korman, Parvenu Entertainment - Projects include "Tim & Harvey and the Great Outdoors", "Dorf on the Diamond"
Frankie Avalon
Timmy Woods
Arthur Sarkissian
Maria Magdalena Cosmetics
Helen Reddy
Freund & Brackey, LLP - Beverly Hills, CA
The Estates of Harpo & Chico Marx
Famous Monsters of Filmland Magazine
Women Build for Women / Habitat for Humanity
Crescendo Records
Western States Baptist Bible College
Graham Hailey / Hailey's Hints
Stuart Weitzman - Famed shoe designer who continues to lead the way for women's shoes - Sells to 45 countries worldwide.

"RN & NPR always have Hollywood's biggest stars were his clients Stuart Weitzman shoes on the red carpet. NPR was responsible all the million dollar shoes for the Oscars
Neal also created the Stuart Weitzman Celebrity Breast Auction.

Neal always gets nominees to wear Weitzman shoes."
Academy of Television Arts and Sciences (ATAS) - East Coast representatives
The 1991, 1992, 1993,1994 Primetime Emmy Awards Show (ABC-TV)
Milton Berle - Comedy Icon
Donny Osmond - Pop Star
Victoria Rowell - award winning actress currently starring in "The Young and the Restless" and "Diagnosis Murder"
Clarence Gilyard - co-star of "Walker, Texas Ranger" (CBS-TV).
Bob Barker - host of "The Price is Right".
Joely Fisher - Film/TV Star.
Lee Greenwood - country music superstar, one of the top recording artists and concert performers in the country music field.
Bob McGrath - Original host of "Sesame Street".
Rick Dees - National Radio and TV personality.
The Improv - World famous comedy club celebrating its 30th anniversary.
Academy Award Parties - Every year since 1990 including last year's celebration honoring Clint Eastwood and Martin Scorcese.
The Bold and the Beautiful - Created and executed publicity campaign, helped increase Nielsen rating from #12 to #3.
Apples Bed and Breakfast - Big Bear Lake, California
Gold Mountain Manor Bed & Breakfast - Big Bear, California
Proctor and Gamble Productions - The People's Choice Awards, Circus of the Stars, Miss Universe, Miss USA, Miss Teen USA).
1993 Daytime Emmy Awards Show - #1 Rated Show of the Week.
PBS - Live From Lincoln Center (10 seasons), The Dinosaurs! (1993), Alive From Off Center (over 70 specials, seven seasons).
First Run Syndication Shows - Superboy (Viacom), USA Today on Television (GTG East), The Morton Downey, Jr. Show and Inside Report (MCA)
For network television, our agency publicized CBS-TV's highly successful Lonesome Dove Mini Series, representing Suzanne DePasse. We also created the publicity for Dear John (Paramount) and Unsolved Mysteries, Orion's Equal Justice (ABC), Keenan Ivory Wayans' In Living Color (Fox) and The Equalizer (CBS). Representing Orion TV, we promoted The Kennedys of Massachusetts, a six-part ABC miniseries produced by Edgar Scherick, and Proctor and Gamble's two-hour film, The Pied Piper, starring Peter O'Toole, for CBS. For cable, we publicized the 1989 MTV Music Video Awards Show, launched and publicized VH-1 in October 1989, and publicized The Prarie Home Companion's Second Annual Farewell Concert, staring Garrison Keillor. We have represented a number of cable services, among them E! Entertainment, the Financial News Network (FNN), The Learning Channel and the Rainbow Programming Service (Bravo and American Movie Classics).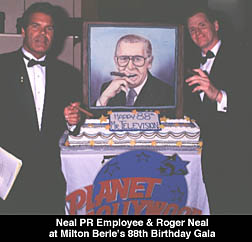 Our Agency has also promoted feature films over the years, both as location publicists and as creators of "opening" campaigns in New York City and other major markets. We were unit publicists on features produced by American Playhouse, among them: Longtime Companion, The Thin Blue Line, Stand and Deliver, The Ballad of Gregorio Cortez, Testament, El Norte, Smooth Talk, A Flash of Green, Northern Lights, The Little Sister, Native Son and Stacking. In addition to promoting Rick Dees, our other radio projects include the launch of Fresh Air, the daily interview program hosted by Terry Gross, for WHYY in Philadelphia; specials featuring Garrison Keillor for NPR; and Westwood One in Los Angeles.
In the art world, we publicized and promoted Running Fence, the feature film documentary based on Cristo's famous outdoor art project in which he ran miles and miles of white sheets along the California countryside. We also do special publicity for native American painter John Nieto.
Our Agency provides corporate public relations for major entertainment industry companies. We launched 777Film (MovieFone) and represented ITEL, RM Arts (Reiner Moritz), Chauncey Street Productions and Fred/Alan, Inc., the ad agency that launched MTV.
In addition, we have created and executed national publicity plans on behalf of several celebrity "scents" - Joan Collins' Spectacular for Parlux, and Linda Evans' Forever Krystle and John Forsythe's Carrington, on behalf of Charles of the Ritz.
In the live concert area, we have worked with such artists as Charles Aznavour, Enrico Macias, Vic Damone, Kenny Rogers, Dottie West, Johnny Cash, The Oak Ridge Boys, Larry Gatlin, Roy Clark, Domenico Modugno, Gheorge Zamfir, Gilbert Becaud, Glen Campbell and Garrison Keillor, as well as the Live Aid telecast in 1985. We have additionally worked with Whitney Houston, Michael Bolton and Smokey Robinson.
About Roger & Lynn Neal
Pres. And Vice Pres. of NPR
Roger Neal began his career in 1982 in the publicity department of MGM. He later joined the Los Angeles-based Edward Lozzi & Associates, where he worked with such clients as Tom Jones and Rudy Vallee. A short time later, he launched his own agency, Neal Public Relations, and achieved immediate success, accumulating an impressive client list in less than two years. Roger has received a Grammy nomination for his creative contributions and organization of the Children Of The World, an album and video project that raised more than $500,000 for the USA for Africa Fund. During President George Bush's term of office, Roger served as the President's Advance Representative in the Los Angeles area.